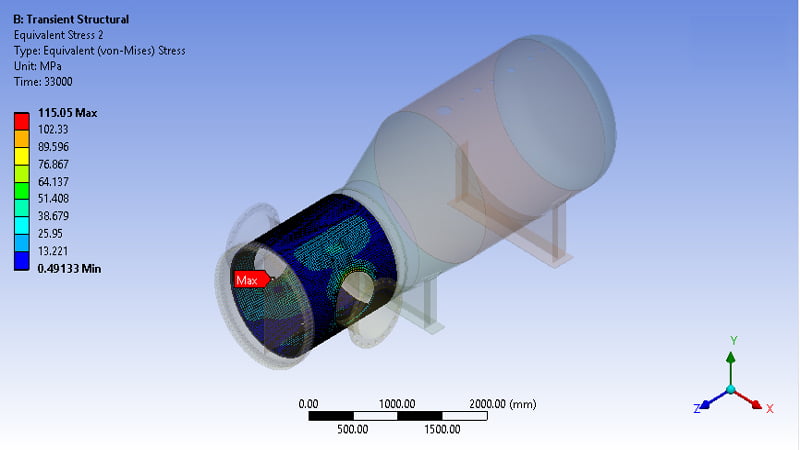 Comprehensive FEA Services for Enhanced Engineering Design and Analysis
Welcome to 3D Labs FEA Services!
Unlock the full potential of your engineering designs and simulations with our comprehensive Finite Element Analysis (FEA) services. At 3D Labs, we specialize in providing accurate and efficient FEA solutions to help you optimize your product development process and achieve superior performance.
Why Choose 3D Labs for FEA Services?
Expertise and Experience: Our team of skilled engineers and analysts have extensive experience in FEA and are well-versed in the latest industry practices. With a deep understanding of engineering principles and advanced simulation techniques, we can deliver reliable and insightful results.
Customized Solutions: We understand that every project is unique, with its own set of challenges and requirements. That's why we offer tailored FEA solutions to meet your specific needs. Whether you need static or dynamic analysis, structural optimization, thermal analysis, or fatigue analysis, we can design a solution that fits your project objectives.
Thermal Analysis: Understand how heat transfers and affects your product's performance with our thermal analysis services. We can analyze temperature distribution, heat dissipation, and thermal stresses to ensure your designs can withstand extreme thermal conditions.
Fluid-Structure Interaction (FSI): Simulate the interaction between fluids and structures to evaluate the effects of fluid forces on your designs. Whether you're working with fluid flow, heat transfer, or fluid-structure interaction, our FSI capabilities can help you optimize your product's performance.
Optimization and Design Improvement: Maximize the efficiency and functionality of your products through our optimization services. We employ advanced algorithms and design exploration techniques to identify the optimal design parameters, reducing weight, material usage, and costs while maintaining performance.
Validation and Verification: Ensure the accuracy and reliability of your FEA simulations through our validation and verification services. We compare simulation results with physical testing data to validate the accuracy of our models, providing you with confidence in your design decisions.
Some completed projects:-
Motor Bed Analysis – Elgi Rubber Ltd
Quick Opening Closer FEA – Elgi Rubber ltd
Nozzle analysis in Pressure Vessel – Nash Engineering Ltd
Stress analysis of process nozzles attached on blind flange -Techno Futura
Roof Nozzle & Rafter Analysis for 50 Ton &100 Tons Bitumen Tank-Puma Australia
Heat Exchanger Nozzle Analysis
Pipe Line Leak Repair Clamp 10" clamp-VKC Gujarat
Mix Tank (Design Calculation) Blackstone, Chennai
FEA – Nozzle weld – Universal Heat Exchanger
FEA – Screw Conveyor – Universal Heat Exchanger
FEA – Nozzle Calculation – Puma Australia FEA – Lifting Lug – NE Australia
50 ton / 100 ton Tank Calculation – Puma Australia
FEA – Rafter – Puma Australia
Pipe Line Leak Repair Clamp 24" clamp-VKC
FEA – Nozzle weld Universal Heat Exchanger
FEA – Well Head Universal Heat Exchanger
FEA – Nozzle calculation – Puma Australia FEA- Tube Sheet Hidayadh UAE
Cutting-Edge Technology: We leverage state-of-the-art FEA software and advanced computing resources to ensure accurate and efficient simulations. Our powerful tools enable us to model complex geometries, analyze structural behavior, and predict performance under various operating conditions.
Our FEA Services:
Structural Analysis: Evaluate the structural integrity and performance of your designs by analyzing factors such as stress, deformation, vibration, and fatigue. Our simulations help identify potential weaknesses and optimize your designs for enhanced reliability and safety.
Partner with 3D Labs for Your FEA Needs:
At 3D Labs, we are dedicated to providing exceptional FEA services that empower you to make informed design decisions, reduce development cycles, and improve product performance. Whether you're in aerospace, automotive, energy, or any other industry, our FEA expertise can help you stay ahead of the competition.
Contact us today to discuss your project requirements and discover how our FEA services can optimize your engineering designs. Together, let's take your products to new heights of success!
Area of Expertise
* FEA Linear/Nonlinear Analysis
* Explicit Dynamics
* FEA Static stress Analysis
* FEA Dynamic Analysis
* Transient Impact Analysis
* Fluid Flow (poly Flow)
* Modal Analysis
* Random Vibration Analysis
* Harmonic Analysis
* Spectrum Stress Analysis
* Fracture Analysis
* FEA Fatigue Analysis
* FEA Buckling Analysis
* FEA Structure Stress Analysis
* Thermal Stress FEA Analysis Services
* Transient Analysis
* Blade Gen
* Steady State Analysis
* Design Optimization FEA Consulting
* Vista (AFD,CCD,CCD(WITH CCM),RTD,TF)
* Spectrum Stress Analysis
* Fracture Analysis
* FEA Fatigue Analysis
* FEA Buckling Analysis
* FEA Structure Stress Analysis
* Thermal Stress FEA Analysis Services
* Transient Analysis
* Blade Gen
* Steady State Analysis
* Design Optimization FEA Consulting
* Vista (AFD,CCD,CCD(WITH CCM),RTD,TF)                          Unlock the Power of Finite Element Analysis with Our Expert Team